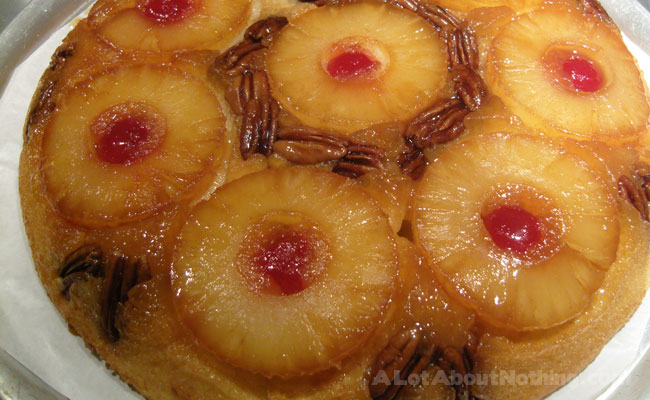 So as I was leafing through a copy of Metro I ran across a recipe for a pineapple upside-down cake. And not just any pineapple upside-down cake: a Jamaican pineapple upside down cake! So natually I had to tear the recipe out of the paper. I tried out the recipe a couple weeks ago and it came out superb. I think the last time that I attempted to make a pineapple upside-down cake was when I was 8-years-old. This recipe is adapted from Lucinda's Authentic Jamaican Kitchen by Lucinda Scala Quinn. I used less granulated sugar than the white cake portion of original recipe suggested (about 1/2 cup instead of 3/4 cup) and it still tasted great, with just enough sweetness (esp. because of all the brown sugar on top). Instead of vegetable oil I used Canola oil, and instead of whole milk I used 2%. I also added some maraschino cherries in the pineapple "holes" to add to the visual presentation. I used the Earth Chef's awesome 11″ skillet to bake this recipe in, so make sure that you have a skillet that's oven safe. This recipe will definitely be a hit.
Yield: 8-10 servings
Ingredients:
1/4 cup unsalted butter
1/2 cup packed dark brown sugar
14 oz (400 mL) can pineapple slices
1/2 cup pecan halves
1-1/3 cups all-purpose flour
1/2 cup granulated sugar
2 tsp baking powder
1/2 tsp salt
3/4 cup milk
1/4 cup vegetable oil
1 large egg
Finely grated zest of 1 lime
1 tbsp lime juice
1 tsp vanilla extract
Directions:
Melt butter in 10-inch, cast-iron skillet on medium heat. Remove from burner. Sprinkle in brown sugar evenly. Arrange pineapple slices in pan (8 slices fit in my pan). Place one maraschino cherry in the middle of each pineapple ring. Arrange pecans in the remaining spaces around pineapple rings.
In large bowl, whisk together flour, granulated sugar, baking powder and salt. Add milk and oil. Beat with electric mixer on medium speed 1 minute. Scrape bowl. Add egg, zest, juice and vanilla. Beat just until well combined.
Pour batter evenly over pineapple in pan. Bake in preheated 350F oven until tester inserted into centre of cake comes out clean and top of cake is golden (about 25 to 30 minutes). Remove from oven and let the pan sit for 5 minutes. Carefully invert onto circular platter. Eat warm or at room temperature.