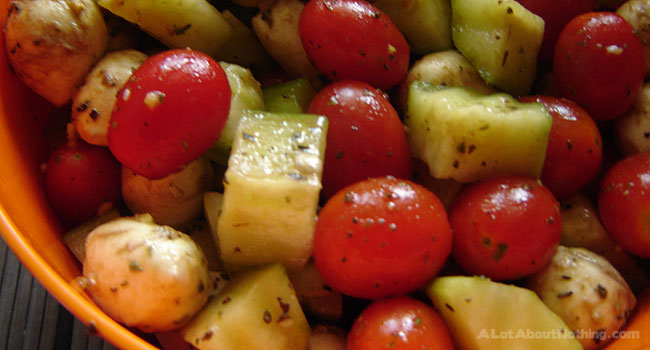 Not only is this salad quick to put together, it also makes a great side to any meal, and works as a nice, healthy snack. Bocconcini is a smooth, round, mild-tasting cheese–soft, unripened mozzarella. I like to use the mini pearls, but you can use the regular sized bocconcini if you like.
Prep Time: 5 minutes
Yield: 4 servings
Ingredients:
1 200g tub of TreStelle Bocconcini cheese
1 pint container of Grape Tomatoes
1 large English Cucumber
3 tablespoon Extra-Virgin Olive Oil
2 tablespoon Balsamic Vinegar
1 teaspoon of Club House Salad Herbs Seasoning or Mrs. Dash (more or less to taste)
Instructions:
Peel and chop the cucumber into bite-sized cubes and place into a large bowl.
Add the grape tomatoes and bocconcini cheese to the cucumbers and mix with a large spoon.
In an salad dressing bottle, or small bowl mix together the olive oil, balsamic vinegar and seasoning to taste. Pour over the cucumber mixture, mixing and coating thoroughly.
Serve and enjoy.