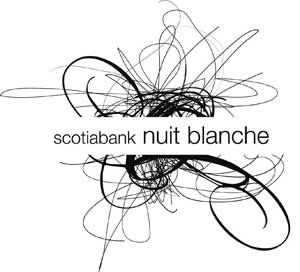 For one sleepless night, experience Toronto transformed by artists. Discover art in galleries, museums and unexpected places. From alleyways and demolition sites to churches and squash courts, explore more than 195 destinations. One night only. All night long.
From sunset at 7:03 pm on Saturday, September 29, to sunrise at 7:14 am on Sunday, September 30, 2007, Toronto will be bustling with activity as thousands experience a full night of contemporary art and performance in three zones across the city.
After a stunning and triumphant launch in September 2006, the widespread appeal for Scotiabank Nuit Blanche to return in 2007 was overwhelming. On May 10, 2007, Toronto Mayor David Miller officially announced that Scotiabank Nuit Blanche had become an annual signature event for the City of Toronto, and he invited everyone to rediscover Toronto through this free, all-night celebration of contemporary art.
Visit the official ScotiaBank Nuit Blache site for details. Don't forget to read their Survival Guide before heading out tonight.