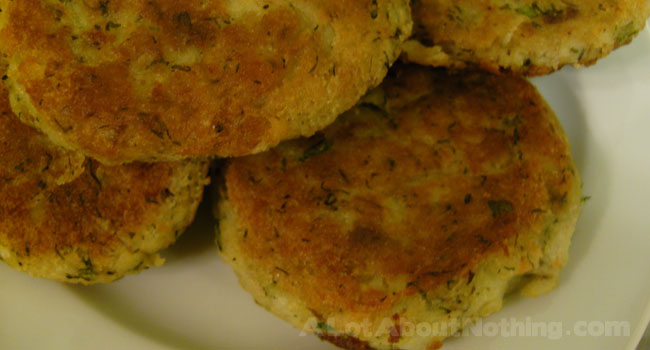 This recipe makes a great appetizer, or all around savoury snack if you're a fan of fish and potatoes. You can experiment with any type of fish you'd like (or even mix them like I did), but I think cod, salmon or sole work really well. A helpful hint: if you want to reduce the cooking time, cut your potatoes into chunks (instead of boiling them whole), so that they cook quicker.
Yield: 12-14 fish cakes
Ingredients:
4 small white potatoes or 2 large russett potatoes (cut into large chunks)
2 salmon, cod or sole fillets (about 250-300g total)
1 egg (lightly beaten)
1 tbsp milk
1/2 cup plain breadcrumbs
1/4 cup fresh dill (chopped)
3 green onions (finely chopped)
1/4 tsp garlic powder
1 tsp lemon juice
1/2 tsp pepper
1 tsp salt, or to taste
3 tbsp canola oil (for frying)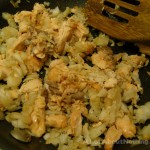 Directions:
Boil potatoes for about 15 minutes, or until tender.
While the potatoes are boiling, sear the fish fillets in a frying pan with a bit of oil for 5-10 minutes over medium heat. When they are almost fully cooked, remove from heat and flake into bits with a fork.
Drain potatoes and place into a large bowl. Quickly mash with a potato masher, adding milk and egg to themixture.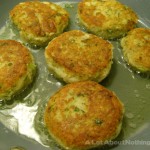 Mix the flaked fish into the mashed potatoes. Add in the breadcrumbs, green onions, dill, garlic powder, salt and pepper until well combined.
Using your hands, roll a portion of the mixture into a ball and form small patties (a little bigger than a squash ball, or larger if you like). Place fish cakes in a frying pan with oil over medium heat.
Fry each potato fish cake for about 5 minutes on each side until golden brown. Drain on a paper towel-lined tray or plate. Serve with your favourite seafood dipping sauce, ketchup or enjoy as is.