Ignoring the negative balance in my bank account, I decided to stop and browse through the shelves of Indigo today after work. I'm glad that I did because I picked up a nice bargain from the discount table: Richard Roeper's 10 Sure Signs a Movie Character is Doomed & Other Surprising Movie Lists. The first thing that struck me was the giant $3.99 price sticker on and the word 'movie' in the title (I'm a pretty big movie-lover). Flipping through the pages, I was struck with lists like "7 Movies in Which Ben Affleck Cries Like a Big Fat Baby", "Age Difference Between Michael Douglas and His Leading Ladies" and "Best Porn Titles Based on Legit Movies". The latter will have you laughing at the creativity, or lack thereof… "Free My Willy" or "Jurassic Pork" anyone?
Here's an excerpt from the title list of a sign that movie character is doomed: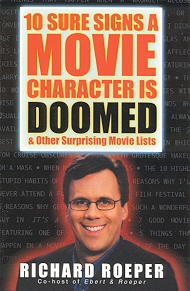 The bad guy is locked in a life-and-death clinch with the good guy, when suddenly a gun goes off. We see the look of shock on the good guy's face as he falls away–but of course it's the bad guy who's been shot in the gut.
And one list that I found particularly funny was "5 Things That Happen When a Wrongly Accused Fugitive Walks into a Bar, a Restaurant, or a Convenience Store":
A television will be turned on, and the news will be playing.
The fugitive will glance nervously at the TV and then order a drink or a pack of smokes.
The newscaster will start reading a story about the fugitive, with a mug shot of the fugitive prominently displayed.
A customer will glance at the fugitive an then back at the TV.
Just as the customer realized the fugitive is RIGHT THERE, the turns–and the fugitive is gone, the door swinging in his wake.
As much as I disagree with Richard Roeper's "critiques" on the Sunday night movie review show Ebert & Roeper, I must admit that this book is a fun read so far. I had no idea he could be so hilariously witty. And for $3.99 it's well worth the price (the original price of $20 when it first came out 4 years ago was way too much). You'll be laughing to yourself saying "That is sooooo true!" after some of these lists (well, maybe not his picks for bests and worst movies). The paperback would also make a nice, cost-efficient gift to a film buff you know.
So if you're planning on passing through a Chapters or Indigo this week, take a look for this book. It'll cost you less than a round trip fare on the TTC, and it's make some nice light reading on public transit.