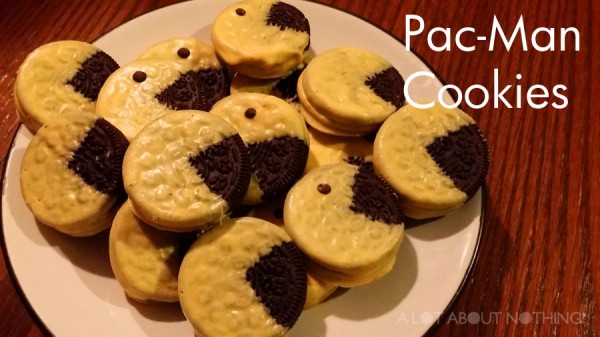 I had a huge 80s-themed birthday last month (stay tuned for the updated post), and went to town on all the treats and decorations. One of them was Pac-Man cookies. Super simple to make, and they were a hit.
Yield: About 60 cookies
Ingredients:
2 packages of Oreo cookies (or any dark-coloured cookie)
200g of yellow candy melts or moulding wafers (for the body)
10g black or chocolate-flavoured candy melts or moulding wafers (for the eyes — optional)
Coconut Oil
Method:
Using a double boiler (I used a glass bowl over a saucepan filled with some water), melt the wafers over simmering heat, stirring constantly until they have melted. Remove from heat.
Take an Oreo cookie and dip it halfway into the mixture, letting the excess drip off carefully back into the bowl. Rotate the cookie 90° and dip it into the mixture again. This should create the "open mouth" Pac-Man shape.
Place cookie on a lined baking sheet covered with parchment paper.
Repeat with remaining cookies until all are dipped. 

Water should not come in contact with the wafers, as it will ruin the smooth consistency. If the mixture is too thick you can add a bit of melted coconut oil to thin it out. 

For the eyes, melt the chocolate-flavoured wafers in a small bowl in the microwave for 1 minute on low power (or until melted). Fill a sandwich bag with the mixture, cut a small piece off the corner to form a piping bag. Gently squeeze a bit of the dark mixture to dot eyes for the Pac-Man cookies.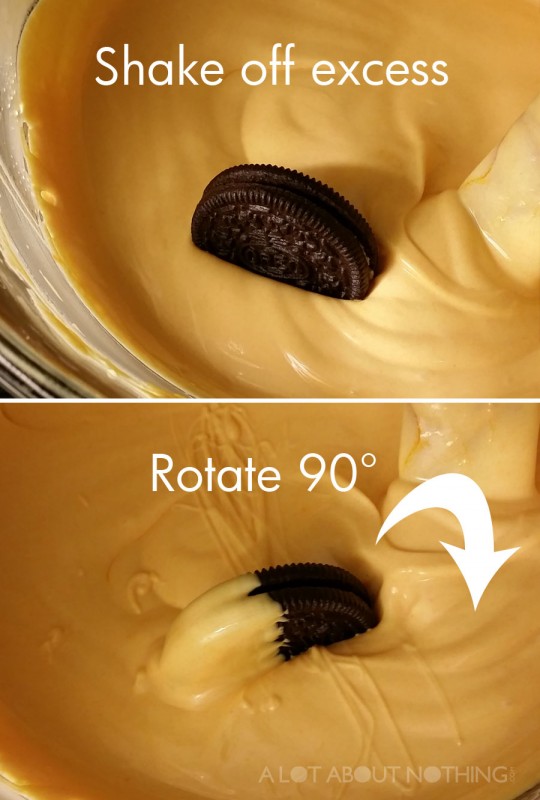 Cookies harden fairly quickly. After 20-minutes or so they can be stacked in a reusable container, ready to be eaten!