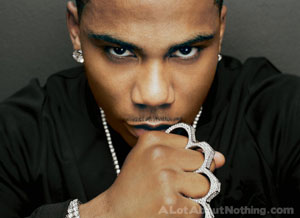 One of the perks of my job is that every once in a while I get to interview different artists for promotional purposes (last month I got to interview R&B singer, Ne-Yo). Today at the tranquil Cosmopolitan Hotel I got to ask Mr. Country Grammar himself, Nelly, 10 questions on behalf of one of our third party partners.
Nelly's one friendly guy… very personable. He walked in the room with a huge entourage, and shook hands and hugged those of us who were already in the room (including a "how you doin', beautiful" to me *blush* ). I'm happy he didn't didn't seemed irked at all that we had to interview him before he got a chance to eat (hope his take-out didn't get too cold!). He answered the questions with a lot of depth, including thoughts on his new album Brass Knuckles, his collaborations, and even his desire to play for the St. Louis Cardinals if he had the choice.
I've always found Nelly's tracks fun, catchy and perfect for any party. I love how he collaborates with different artists (Ron Isley, Christina Aguilera for example) and genres to create hit tracks such as "Over and Over" (with Tim McGraw), "Dilemma" (with Kelly Rowland). Now I don't know how I didn't notice this before, but dayyyum he sure is looking deezed! I shook his hand goodbye after the interview and he gave me a kiss on the cheek. It was getting hot in therre. :D
I'll try to post the link to the transcript of the interview once it's publicized! Check out Nelly's official site herre.