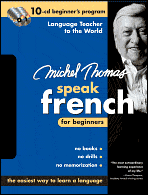 I've been a tad skeptical about those language learning software and audio kits. So I surprised myself by purchasing Michel Thomas' Speak French For Beginners program. I haven't heard this much French since I took the Summer Language Bursary Program (now known as Explore) when I was in university. The 5-week language program (in Trois Pistoles, Quebec) I took was one of the best experiences I ever had. I made new friends, experienced different cultures and activities, and most importantly, I greatly improved on my French (I fairly recollected my one year of high school french). Of course as soon as I left Trois Pistoles and returned to Toronto, I forgot a good deal of what I learned because I was re-immersed into an 99% anglophone city.
I would love to learn French on a more conversational level. Speaking a second-lanuage definitely has it's benefits. And when I do learn French to an extent, I won't have to worry about strangers asking me, "Oh, you're name is Monique. Do you speak French?" :D
I've heard positive things about Michel Thomas' teaching methods, so when I noticed that it was on sale at Chapters.Indigo.ca for 34% off the regular $99.99 price tag, I jumped on it (I also got an additinal 5% off with my iRewards card, and had a $5 coupon, so I wound up paying only $60 with free shipping). It probably would've been cheaper if I purchased it from amazon.com, but I wasn't sure about all those extra customs charges at the border.
Yesterday I started with disc one, and this morning I listened to the second one on my way to work. Honestly, the reviews aren't kidding: his way of teaching actually makes me retain what I'm learning. I don't have to worry about writing anything down, reviewing homework, or memorization. And the program is done as Michel teaches two students, so you actually feel like you're learning as part of the class.  Using your pause button on your mp3/CD player, you'll try to translate the English phrase Michel asks into French phrases before the students.  Part of the process is also learning from the mistakes the students may make before Michel corrects them.
Almost 20% into the entire package, I have a basic understanding of words, phrases and vocab that could get me to feel a little more comfortable with speaking simple French–a lot more than I remember from when I was taking French in high school.   The programs breaks down the language, so you're able to piece together each 'building block' into a proper sentence.  I'm actually beginning to understand more of the French language and how it works.
No books. No writing. No drills. And nothing to memorize– ever! With his patented method, Michel Thomas has taught languages to top celebrities and–through his bestselling audio programs–more than a million everyday learners around the world. At the end of this ten-CD beginner's program, you will have acquired:

* A full working vocabulary
* Essential comprehension skills
* Complete language confidence

Don't try to memorize specific words or expressions. It is a basic principle of the Michel Thomas™ method that the responsibility for the student's learning lies with the teacher. With Michel Thomas as your teacher, your learning will be based on understanding–and what you understand, you do not forget!

Included in the package:

* 10 audio CDs–including the two-CD Speak French Get Started Kit and 2 review CDs
* Program booklet
* Zippered travel case
I can't wait until I reach the end of the 10-disc course to see how much I really have learned! Now writing en Français is another story. It's a good thing I also picked up Barron's French Verb book! I'll be sure to keep you guys informed on my progress.