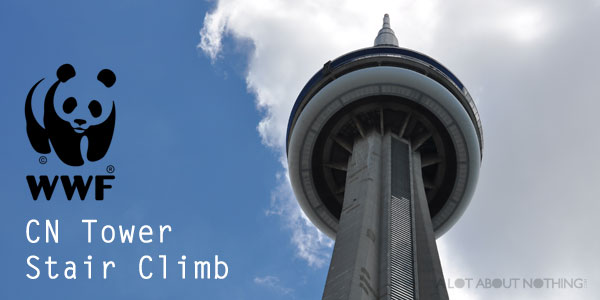 Hello everyone! On April 21st I will be participating in the annual CN Tower stair climb to support WWF Canada. That's right, I'll be climbing up all 1,776 steps!
For those who don't know me that well, I do try my best to keep the environment strong, and now that includes helping with the protection of it's endangered wildlife and climate change.
Having worked at the CN Tower in my youth for a couple years, I've never actually climbed up all those steps (come to think of it, I used to laugh at the people attempting to do it during those events as I escorted them on the elevator down… boy, have the tables have turned). But now's my chance to achieve a personal goal on my bucket list and help with a good cause as well.
Hopefully all my years of kickboxing and salsa dancing will come in handy, as I think I would probably collapse on step #47 if I don't start training a bit more (thank goodness there are paramedics on every 10th floor). Perhaps hooking a chocolate doughnut to the end of a pole attached to my headband will be a good motivation as I climb up?
I'm counting on all of you to help me reach my fundraising goal. The money I raise with the help of your generous support will make a huge difference to WWF's efforts to conserve species at risk, like polar bears, tigers, and pandas (aka all the cute animals I don't eat) and the habitats they call home.
Visit this link to my personal fundraising page, so that you can sponsor me directly online. Remember, every little bit helps (even if it's just a couple dollars)!
If you'd like to join me in the challenge by climbing yourself, don't hesitate to sign up at wwf.ca/cntowerclimb. Feel free to share this page to anyone else you know who may be interested in pledging my climb.
Thank you in advance for your support!