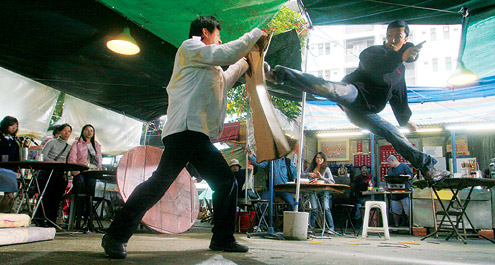 I managed to get tickets to the Toronto International Film Festival's Midnight Madness screening of Wilson Yip's Flash Point Thursday night, and it was well-worth the $20. Especially because Yip was present at the screening and fans in the audience got a chance to ask him questions about the film, his work as a director and collaboration with the film's action director and star Donnie Yen.
Here's a short synopsis of the film: Honk Kong Police Inspector Jun Ma (Donnie Yen) is one of those cops which has a no-holds-barred sense of ethic when it comes to catching criminals and putting them to justice (while beating them to a pulp if needed). His partner Wilson (Louis Koo) is working undercover trying to go after a trio of blood-thirsty Vietnamese gangsters. When his cover is busted and Wilson turns into a target all hell starts to break loose. And when that happens you know hot-headed Jun Ma is gonna flip out and put a serious throw-down on the bad guys.
Flash Point has one of the most realistic fight choreography that I've ever seen in a film. This is mainly due to the action direction of the film's star, Donnie Yen, who in an email expressing his regrets of not being able to make an appearance at the film's Toronto International Film Festival debut, clarified his role in the film and his use of mixed martial arts (a fighting system that involves a wide array of martial arts techniques including Jujitsu, wrestling and Muay Thai).
In the first part of the film the plot mainly centers around Louis Koo's character and his work getting the goods on the bad guys. This sort of narrative isn't anything innovative: You have the vengeful cop (Donnie Yen), the witness that needs protection (Louis Koo), the girl (Fan Bing-Bing), and the bad guys who threaten the lives of the vengeful cop, the witness and the girl (Colin Chou, Ray Lui and Xing Yu). Flash Point may seem a little light on the action-side for the first two-thirds of the movie (only 87 minutes long), but when the real action starts to take place the wait will be worth it. Especially when Inspector Jun Ma battles the lead villain Tony (Collin Chou from The Matrix Reloaded) in an intense fight sequence. It makes you want to hope that the DVD comes with an extended version.
As a team, director Wilson Yip and Donnie Yen have a most intriguing style, as is evident in their previous work of Sha Po Lang aka Killzone (which I need to get a DVD copy of). Yip's need to build character development and Yen's desire for action was one of the most challenging aspects of filming Flash Point according to a Q&A after the film at Toronto's Ryerson Theatre. But the final product was worthwhile.
If you didn't get a chance to see Flash Point, or you're a fan of Hong Kong Cinema and martial arts flicks, make sure your buy or rent a copy when it's released on September 27th. You've probably never seen more realistic action sequences than this before. This film will put all those wire-dependant, stunt-double needed, and special-effects suppressed Hollywood action films to shame.