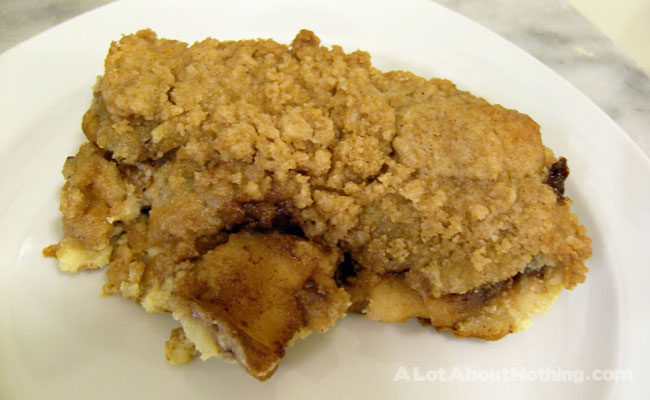 This is a recipe that I submitted to Pillsbury's Baking Challenge. I heard about the contest one night, and realizing that I only had a couple of days to create a recipe, I found a tube of Pillsbury Crescents in my fridge and started brainstorming. Apple-Cheese Struesel Squares (or rectangles, depending on how you cut 'em), is what came out of it all. After serving the delicious dessert to several friends of mine (and of course, trying it myself), I knew I had a winner in my books. Moist and flaky Pillsbury Crescent base for this quick and easy dessert, along with the blend of tender apples, cream cheese and streusel topping. If you enjoy the recipe, remember to head over to the Pillsbury Baking Challenge website and vote for my dessert (you can vote once a day)!
Ingredients:
1 can (235 g) Pillsbury* Crescent Rolls
For cream cheese filling:
1 – 250g package of cream cheese (room temp.)
3 tbsp granulated sugar (45 mL)
1 egg
1/2 tsp vanilla extract (2.5 mL)

For apple filling:
2 cooking apples, peeled and sliced (e.g. golden delicious)
3 tbsp unsalted butter (45 mL)
2 tbsp brown sugar (30 mL)
1 tsp ground cinnamon (5 mL)
1/2 tsp ground nutmeg (2.5 mL)

For Streusel Topping:
1/3 cup flour (75 mL)
1/4 cup brown sugar (50 mL)
1/4 cup unsalted butter (50 mL)
1 tsp ground cinnamon (5 mL)
Directions:
Grease an 8-inch casserole dish and preheat the oven to 350 degrees F (175 degrees C).
In a saucepan over medium heat, melt the 3 tbsp of unsalted butter for the apple filling. Add in the 2 tbsp of brown sugar and cinnamon and stir until dissolved. Gradually add in the sliced apples and cook for about 5 minutes, stirring occasionally. Remove from heat.
In a medium bowl, using a spatula mix together the ingredients for the cream cheese filling: cream cheese and granulated sugar until blended, then add in the egg and vanilla extract. Set aside.
For the streusel topping, mix together the flour, sugar and cinnamon. Using a pastry blender or a fork, cut in the butter and combine until the mixture resembles coarse crumbs.
Open the can of Pillsbury* Crescent Rolls and arrange four sections in the bottom of the casserole dish to cover the bottom of it (use your fingers to stretch the dough slightly if necessary). Slowly pour the cream cheese mixture over the bottom layer of the Crescent dough. Top the cream cheese mixture evenly with the semi-cooked apple. Add the remaining four pieces of Crescent dough on top of the layers to seal.
Top the layers evenly with the streusel topping and bake in the pre-heated oven for 25-30 minutes, or until the top is golden-brown. Cool for 5 minutes before cutting into squares.
Tips and suggestions: Top with chopped walnuts prior to cooking and serve with vanilla ice cream.