I'm not too big on Valentine's Day (mainly because I believe most men suck and I'd rather wait for the discount chocolates I'll be buying myself tomorrow), but I've been waiting to post this love-themed post for months now ever since I first saw the YouTube video of my sister's good friend, as he proposed to his long-term girlfriend.
There are countless of proposal videos online, but never have I seen one that looked like it was so thought out and organized. "Mr. Proposal", as I'll call him during the following interview, went all out to pop the question to his lucky girlfriend. All the best to you both for your upcoming nuptials!
Part 1: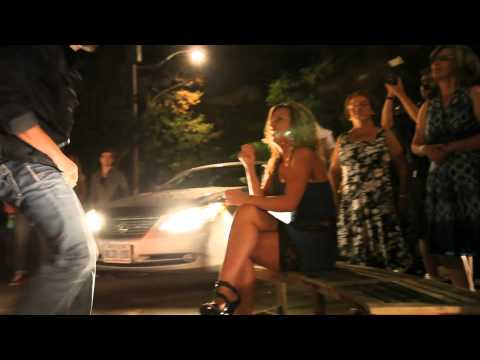 Part 2: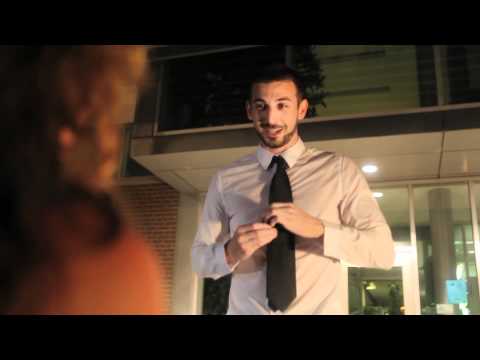 A.L.A.N.: Where did your idea come from?
Mr. Proposal: She had been showing me all these different proposals on youtube that were pretty cool, but I wasn't entirely impressed. Some were amazing but others were just great ideas, with no hot sauce! What ever I was going to do would need a lot of flavour, and a lot of hot sauce. I noticed that the ones I liked the most were the ones where the guy was presenting himself. I didn't matter how extravagant it was, but if he was genuine to himself in his approach it was immensely touching. So I decided I would be me, and present the best me I could.
A.L.A.N.: How long did it take to plan?
Mr. Proposal: It took approximately 6 or 7 months to create, plan, and ensure proper execution. I had to figure out where and how it was going to happen. What music to use, each song had a specific connection to our life together. I had to write my lyrics to a number of songs, then edit and record my tracks.
I had to work on and create the "Show" rehearsing with the dancers, and practicing my performance. I had to secretly coordinate 50 or so friends and family to be there and know all the cues for their involvement. I had to engrave the bench she was sitting on (where we had our first kiss), it was engraved with the date of our first kiss "The Kiss" and also engraved with the date of the proposal, entitled "The Question". I had to secure the camera crew, and photographer. I was creating the ring from ideas in my mind, not buying a existing ring in the store. So many things listed above I feel like I am just listing endless elements, but it is an indication of the insanity of those 6-7 months.
The above is just the creation of the show, and not even touching on the logistics and execution. Where were we going to get power in the middle of the street? What if the police show up? What if it's raining…. which it was. ALLLLLL OF THIS, and not letting my woman (who I live with) know a single thing. Que deep breath!
Truly though there is no way I could have done these things alone. Each element had a fantastic and forever special friend involved in it supporting me all the way along. To these friends I owe them more then I could ever repay!
A.L.A.N.: Worst possible thing to go wrong?
Mr. Proposal: The worst possible thing that could of gone wrong, essentially did. During the entire evening of the proposal, it was pouring rain, POURING RAIN!!! We were out at a dinner and my Best Man, aka "The Captain" was messaging me with the concern of what we should do if it continues to rain. Friends and family were instructed to be at the scene an hour before to do a "dry run" and now it would be taking place in the rain.
The decision was that if it continues to rain and nobody would wait in it, and if it was still raining when the plan of a dog walk would be initiated, that we would move forward as planned. I knew if it was pouring rain and I had to ask my Lady to walk with me, she would say "Yes" no matter what. I would perform just for her, or with no power, or no dancers or with no audience, it was going down!! This is not to mention I had to break into my mothers house to get my dog, because a friend of mine had used my keys that day. I was LOCKED OUT and I needed the dog to go on the ruse of our dog walk. No B+E charge that night though :). I also forgot to read my speech I wrote months before and had to wing it. The speech that came out was better then I could have ever written, it flowed so naturally :)
As you can see in the video it stopped raining for about the 30 minute period between when we left the house for the dog walk and the end of the proposal. If you look at the ground it literally dries as the video plays and at the end you can hear me say "and now it starts to rain!".
A.L.A.N.: Was your proposal perfect?
Mr. Proposal: I can honestly say that my proposal went to perfection! I had created this idea in my mind but obviously never truly knew how it would work out in reality. I was experiencing it all for the first time as well. I was able to break into my mom's house successfully to retrieve my dog, the rain parted with eerily perfect timing , everyone made it out, I landed my back tuck!!!
But most importantly she said "YES" and loved every minute of it. So yes, I would say it was perfect, but perfect for us. I think when you propose to your woman it should be about you two. You have to know your woman, know yourself and create the appropriate idea. For example some women like being proposed to at a baseball game, and some don't…. well most don't, but some might. :)
The only thing I may have wished to see a change was, when I spoke with videographers about how they saw the event being capture, I choose the guy who said he would dedicate one camera to being on her the entire time. The video that came out doesn't really capture too much of her reaction. Maybe the video could of had a small square in the corner that was of her the entire time. However I am ok with the memory of her reaction being secluded to my mind and memory alone. Her eyes that night are truly something I will never forget, video or not.