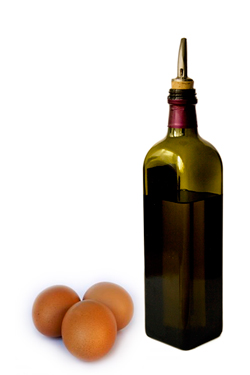 Since I made the decision to go natural over a decade ago, I've been trying to find the perfect products that would work best on my hair to keep it soft, strong, manageable and growing.
I usually have a rotational period of styles I typically go with: Jeri curl weave, two-strand twists with extensions, rock the head wrap when I'm too lazy to style, or chiney bumps/bantu knots, an afro, or I add some Kinky Curly in when my hair is completely natural.
I'm lucky that I've got a talented sister who is able to style my hair (and for free… thanks sis!), so I can't really complain too much when I have to waste an entire weekend when I have to remove styles like my usual two-strand twist. It literally took me 6 hours to untwist all the extensions and then another 2 to untangle my natural tresses, because I didn't want to make the mistake of having a deep shampoo without detangling first (I've heard horror stories).
After getting a few tips from another natural colleague, I decided to try a homemade deep-conditioning recipe to add some strength and manageability to my hair, since it was in the twists for about two months.
I took a look in my kitchen pantry and concocted a recipe that worked wonders on my hair.
EVOO (Extra-Virgin Olive Oil) and Egg Yolk Deep-Conditioning Treatment
Ingredients:
4 tbsp extra virgin olive oil
2 tbsp honey
2 egg yolks
1 tbsp of pure shea butter (available at natural food stores like The Big Carrot or hair supply stores like Honey Fig in Toronto)
6 drops of lavender oil
Directions:
Pour the olive oil into a bowl. Whisk in the two egg yolks and honey.
Melt the solid-state shea butter in the microwave on 60% power for about 1 minute (or until it turns into a liquid state, should not be too hot).
Gradually pour the shea butter into the olive oil mixture and stir until combined. Add in the drops of lavender oil.
After your hair is shampooed and towel dried (blot, don't rub), part your hair into sections and apply your deep conditioner treatment generously, combing through from root to tip (twist completed sections if desired).
Cover your hair with a plastic cap (in order to retain heat and moisture as your hair folicles work with the conditioner) and leave on for about 30 minutes to an hour. If you don't have a plastic shower cap, you can do like I did and use one of those plastic bags you find in the produce section of the grocery store.
Remove plastic cap and rinse your hair in luke-warm water (not too hot, unless you want scrambled eggs in your hair) for about 5 minutes, or until the conditioner is properly rinsed out.
Comb and style as usual.
After using this homemade conditioner on my hair, I noticed it felt a lot softer and looked a bit shinier than usual. The best part was that the comb went through it so effortlessly! I usually run into knots when I'm detangling (even after I try to comb through my hair during shampooing), but the conditioner made my hair so manageable.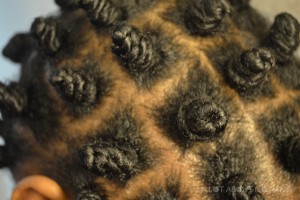 After I rinsed out the conditioner, I towel-dried my hair and twisted it into my 'trademark' chiney bumps/bantu knots. This style should last me a couple of days, then I can untwist and pull off another style with a curly, twist-out.
Reasons why you should try a homemade hair deep-conditioner treatment:
It will help you take better care of the health hair
It's cost-effective
You know what ingredients are going into the product:
Extra-Virgin Olive Oil: Great on split ends, adds moisture to dry scalps, adds shine, softness and manageability.
Honey: As a natural humectant it holds on to water molecules, which is what you want if you have dry or damaged hair.
Eggs: As a natural emulsifier, it helps bind all your homemade conditioner ingredients together. Egg yolks have protein and that add strength to your hair.
Shea Butter: This fat is extracted from the nut of the African shea tree. It's rich is fatty acids and vitamins (A, F and E) which help condition the hair and reduce breakage.
Lavender Oil: This regenerative essential oil has a sweet, soft scent and aids in hair growth.
I strongly encourage anyone wearing their hair natural and if you want to help promote growth, to try a do-it-yourself conditioning treatment. Your hair will love you for it.