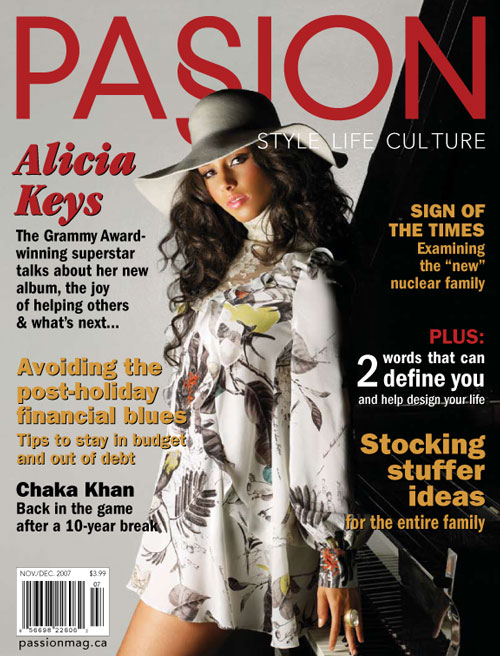 I just wanted to give all of you a heads up on Passion Magazine a "new" publication aimed at women between 25-40. I was honoured to be given the opportunity to help design the layout of the magazine, as well as design and code the website (Drupal can be soooo stressful! Still needs tweaking!). But here's a shot at the cover with the lovely and talented Ms. Alicia Keys. Magazine publishing is a learning process, so hopefully with comments and criticism by readers we'll be able to make Passion successful in our demographic. Kudos to all the hard-working staff!
Here are some of the cover stories:
Alicia Keys: The Grammy Award-winning superstar talks about her new album, the joy of helping others and what's next
Avoiding the post holiday financial blues
Chaka Khan: Back in the game after a 10-year break
Sign of the Times: Examining the 'new' nuclear family
2 Words that can define you and help design your life
Stocking stuffer ideas for the entire family
The November/December issue of Passion Magazine is now available at Chapter-Indigo locations, as well as some Shoppers Drug Mart's. Dont forget to visit PassionMag.ca to enter the Samsung Camera Giveaway Contest!