About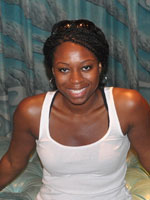 My name is Monique and welcome to my blog, A lot About Nothing.
Teacher, web/graphic designer, self-proclaimed chef, savvy shop-a-holic, closet dancer, proud Trekkie, avid film-watcher, Torontonian…
I guess you're wondering about the name "A Lot About Nothing". Well, it's pretty self explanatory. Not that I think my precious words are worth 'nothing'… quite the contrary. Yeah, I know… if you want to have a 'proper' blog, you've got to choose a niche or theme for it. But, I have a wide range of different interests and knew that if I started a blog, that I would be blogging a little about everything.
So there you have it: a super-brief intro to me and my blog. Feel free to read up, comment and enjoy!