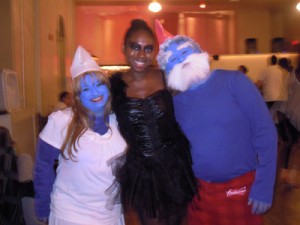 I just got back from the Sunday Salsa Social at Dovercourt House (run by Go Dance Mambo). Had an great time dancing to salsa and bachata sets. Lots of friendly people and best of all, great costumes.
So, I literally wasn't robbed by Smurfs, but they had a costume contest tonight, and the blue critters nabbed first place (as well as a couple of passes to the Montreal Bachata Zouk Fest). As soon as I saw them walk into the social that evening, I knew my chances of winning that costume contest were slim. But kudos to them, anyone who can paint themselves blue on a Sunday night gets a gold star from me. They were so cute… such a great job. I wish more people would put that kind of an effort into their Halloween costumes.
Speaking of costumes, onto mine. If you can gather from the photo, you can see that I'm dressed as the Black Swan. Not very original you're thinking? I know, dressing up as the title character from a popular movie in the current year isn't very creative. But wait… I'm not just Black Swan–I'm The BLACK Black Swan (clever, eh?). I didn't come up with the idea for the costume until a couple days ago, and though the pun on the name would be a good twist (though I probably should've worn a sign). I was going to go as "The Black actress turned down for the roll Natalie Portman made famous in the Acadamy-Award winning film Black Swan", but figured "The Black Black Swan" had a better ring to it.
I did actually see a few other Black Swans out there this weekend. The social I was at yesterday had one there. I'm still kind of pissed that she got 'selected' to be one of the finalists in that Halloween competition and I didn't… she didn't even have a freakin' tiara and her tutu looked like a regular skirt! Anyways… there was a nice Black Swan at tonight's social as well. Adorable outfit, and she even had a nice, little tiara and detailed eye-makeup (but she was no where to be found when tonight's competition rolled up, thank goodness, but I did take a photo with her. :-D).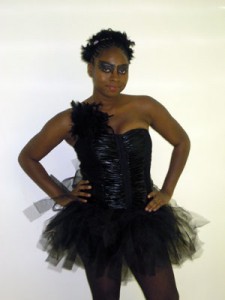 For my costume, I actually made my tutu myself. Got some ribbed elastic ($1.29), thick ribbon (2 metres for $1.49) to mimic ballet slippers, and black netting/tulle ($3.00/metre x 4 metres) which I cut and tied together (I'll probably post the tutorial in a later post). Found a nice corset-style top at Urban Behaviour for $25. Tiara from Dollarama which I painted black. Topped my outfit off with a black, feather boa which was multi-purpose, because I used it as part of my dress and cut some to accent my tiara as well. Black eyeliner and eyeshadow for my self-done make up, and that was it.
After working up the nerve to volunteer to enter the contest, I got a lot of cheers from the audience after clarifying my costume name as "The Black Black Swan", but the prize went to the adorable Smurfette and Papa Smurf who went all out for their costume from head to toe. Great job!
Til next year… still not sure what to do with this tutu now…