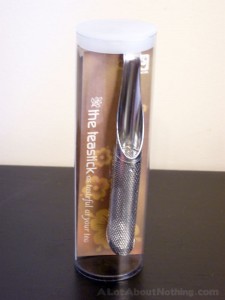 I wouldn't call myself a tea connoisseur, but I drink enough of it to warrant purchasing a new tea infuser. Now I had a tea ball that I purchased from Dollarama last year, but after a bunch of uses and as cute as it is, it's a bit difficult to clean the wire mesh, and I noticed that when I use fine leaf teas, they often seep through the tiny holes.
That's when I decided to try something a little different. When I visited the new David's Tea, I picked up a delicious tin of crème caramel rooibos tea. After looking around at their selection of infusers I came across the Blomos Teastick. It seemed pretty cool, but I didn't want to shell out $25 plus tax for it. I searched the net for similar teastick, since I was worried that the perforations in the Blomos model were a little too big for oh-so-scrumptious rooibos tea. I stumbled upon Gamila's Teastick,  and found one selling on eBay for $15.99. After reading some favourable online reviews, along with the fact that it saved me a few bucks over the Blomos Teastick I decided to purchase it. Gamila states that:
this is the ultimate infuser for tea enthusiasts features intuitive "scoop-slide-steep" functionality while it reflects the aesthetic of traditional loose tea service. Durable enough for industrial use, it has no breakable mechanisms and is constructed entirely of 304L stainless steel with holes small enough to infuse the finest of teas.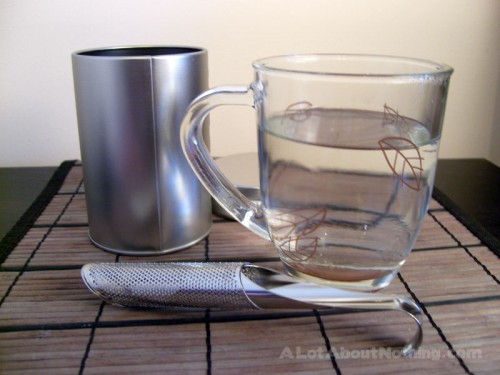 Entirely made of kitchen-grade stainless steel, The Teastick boasts it's made for a lifetime of of home use (we'll see about that). I must admit, the design is very stylish, but does it actually work like an infuser should? I can now say that it does after finishing a warm cup of tea. Even the packaging is pretty cool, complete with info on how to use and care for your teastick, as well as some brewing tips.
After washing my Teastick in warm, soapy water, I dried it off and got ready to test out my new gizmo. It slid open pretty effortlessly, and I noticed the little locking mechanism on the top of the perforated sleeve. It's pretty
roomy inside the Teastick once you slide the sleeve all the way to the top. I was worried that the tea wouldn't have enough room to steep.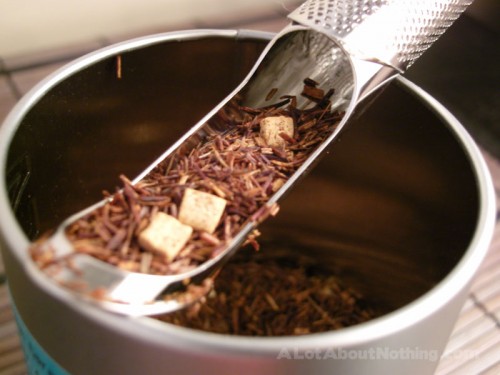 When scooping up loose tea with your Teastick, make sure you kind of shimmy the tea in the scoop so that it levels off with the fill edge. And you want to be careful not to overfill it because tea needs room to unfurl.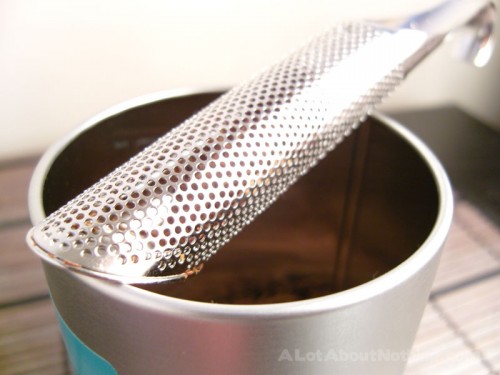 I had a small cup, so I didn't fill it too much. The sleeve slipped back down and locked easily and I dunked the stick into my cup of hot water and waited about 5 minutes for my rooibos tea to steep. What I also like about The Teastick is that it doubles as a stir-stick (and it also looks pretty chic in my cup of tea).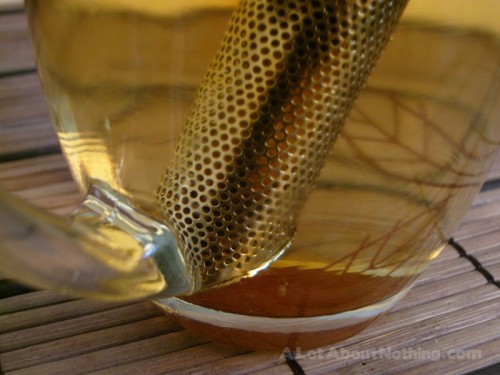 Clean-up was a breeze: I just slide the sleeve back up, dumped out the tea, and washed The Teastick with soap and water (note that it's also dishwasher safe). If some loose tea leaves get stuck in the little holes, the sleeve is large enough that you can use your finger to pry any out (and this is coming from someone with pretty big hands ). I also like the little curved handle at the top of The Teastick. It prevents it from falling into larger mugs or teapots, and allows it to rest evenly on your table or saucer with minimal drippage while you sip your tea.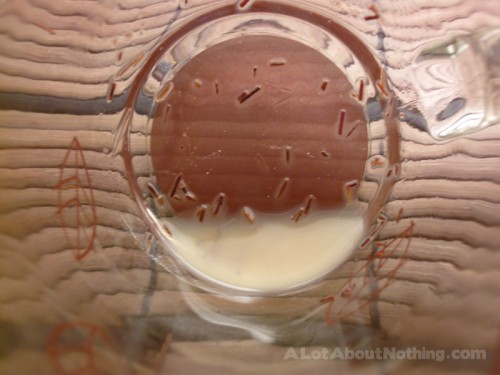 Now, because the type of loose-leaf tea (rooibos) that I used it had some small needle-like leaf particles in it, and a few did float through the perforations, but it wasn't as much as I thought it would be. For drinkers of full-leaf tea, such as green or black, I think The Teastick would be perfect.
Scoop it. Slide it. Steep it. Brewing a cup of tea is that easy with The Teastick. I think this was worth what I paid for it, but if you can't afford to pay for the $18 + shipping as noted on the Gamila site, check out eBay for sellers. I haven't seen this model of infuser in any stores in Canada as yet. And if a teastick isn't your thing, then you can always test out the various tea infuser balls, glass tea infusers, infuser cups, Gamila's new super-cute Teastick Gems, or simply stick to the ol' teabags. Happy sipping!
Gee… I feel like making more tea!