I probably didn't mention this in any of my previous posts as yet, but today marked my first day of Couchpotatoness AKA "I don't have a job now because I'm going back to school to further my education".
Yes, that's right, I've said goodbye to a pretty decent job so that I could… *cue ominous music* TEACH HIGH SCHOOL. This wasn't a rash, last-minute decision I made because I wanted a change of scenery and summers off. I actually had, what some would call, an epiphany while I was at my younger sister's high school graduation last year. After seeing all the teachers make their speeches to the students, and seeing how positively the students reacted along with the bond they all seemed to share, it dawned on me: I'd make a pretty good teacher!
I've always had an aptitude for learning (yes, I even went to those "gifted" classes), and as I reflected on my years I noticed that through different experiences (whether it was helping my younger siblings, volunteering at summer camp, or training some of my co-workers) I've done a good job at sharing my knowledge with them and helping them to grow. Why not make this a profession?
Now, this isn't a direct leap of career paths. At my now former job, I was a Web Producer (involving web & graphic design, videography and photography). My teaching stream will be Communication Technology (one of the 7 broad-based technologies in Technological Education programs) which involves the same thing. I honestly thought it was too late for me to start a teaching career in my field since I've been out of school for a while, but my 3 years experience at my last job actually helped my B.Ed application.
Communication Technology was my favourite course back when I was in high school (I still remember that "Sailor Moon" image I designed in Corel Draw back then). So after volunteering at my old high school for a while and sending my application in, I was pleasantly surprised when I got accepted to Queen's University (tough loss for the other 2 I applied to). (Shout out to my former co-worker Sandeep for getting accepted to teacher's college as well! :D ) For those of you applying for teacher's college, don't give up… things will work out for the best.
So, last week my boss (thanks girl!) and department got me this wonderful cupcake-cake (you know… the one that looks like a cake, but it's actually a bunch of cupcakes smothered in icing so that you don't have to worry about a knife and fork). It was delicious! Was all set to eat one last morsel when I came back from lunch, and to my surprise there was an empty platter on my desk! How 7 cupcakes disappeared from my desk in 30 minutes, I don't know… not even a "thanks for the cupcakes I stole from your desk, Monique". Never did find out who scarfed them down while I was gone… but don't worry: karma's on my side! :P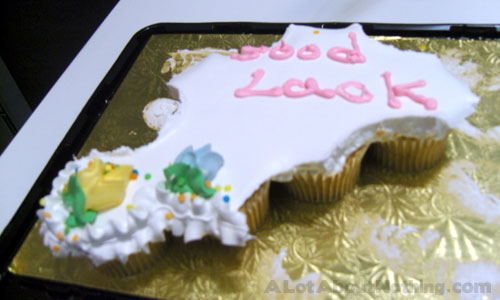 So, now I got a couple weeks to prepare for school (I even have an assignment due on day 2, so lots of reading to be done). What really sucks now is that I'm not covered by my benefits package anymore. Looks like my wisdom teeth are going to have to wait 10 months till I get hired and covered again (heaven knows I'm not shelling out my laptop funds on my teeth)!
Hi-ho, hi-ho… It's off to Kingston I go. Of course, I'll keep you all updated. :)