Well, I officially have one more full day before I head off to Kingston for the next month for teacher's college. My room looks like a tornado hit it with all the clothes strewn around! Packing can be stressful, especially if you keep on thinking that you're going to forget something.
I got the biggest stress off of my chest on Thursday: I got myself a laptop for school, because God knows I'll be hopeless without it. I initially wanted to invest in a MacBook Pro. But after careful consideration I thought that all that money the package would cost me was a bit too rich for my blood. The MacBook Pro is currently retailing at $2300 at the Apple Store (after my student discount), and they also have a free iPod ($419 for the Touch I wanted) + free Canon printer (about $100) promotion. Plus, I wanted to jump on the Adobe Creative Suite software promotion ($449 for Photoshop, Flash, Illustrator, Dreamweaver, InDesign and Fireworks), get Apple Care ($279 for students) "just in case" and up the RAM in the computer to 4GB. So before all the mail-in-rebates I was looking at close to $4500. Did I really want to max out my credit cards and I haven't even paid my tuition for school yet? Especially since there are rumours that there's going to be a huge MacBook Pro update in the fall? No. So I went to Future Shop and bought a PC.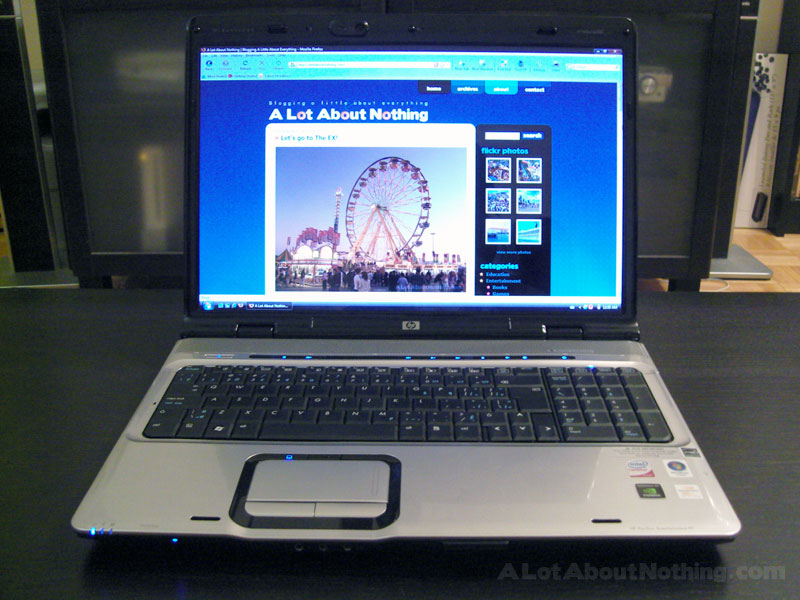 And a sexy PC laptop it is. Not as sleek as the MBP, but boy is this thing shiny! I went with HP, since I've had positive experiences with them in the past (all three of my last computers were HPs). I got the Hewlett Packard Pavilion DV9934CA. I wanted to stay away from the 17″ laptops since they were "too big" for all the travelling back and forth I'll be doing, but this model had the best specs for the best price ($1149).
320GB hard drive
2.0GHz Intel Core 2 Duo T5750 processor
4GB RAM
8X DVD+/-R/RW DL with LightScribe
17″ screen
Integrated Webcam
Integrated WiFi and Bluetooth
NVIDIA GeForce 8400M graphic video card with 256 dedicated memory
Lots of inputs including HDMI, SD, S-video, and 4 USBs
Not bad if I do say so myself. This is the first laptop I ever owned. So now I can look cool and head to Starbucks, sit down and publicly write on my laptop like the rest of people! It's also the first time I'll be using Windows Vista. At first I was kind of wary because of all the issues I've heard of others having with it, but it's not too bad so far (but all those "are you sure" security authorization questions get kind of annoying after a while). It took about 2 hours so set up and create the Windows Vista recovery discs and a charge lasts about 2.5 hours. The video quality is great though… watching Flash Point on the 17″ screen looked great.
Future Shop was having a printer promotion as well, so I got a new HP printer/scanner/copier for $10 with the purchase of my laptop (anyone want to buy an older 990cxi printer? :D ) I stood my ground and stayed away from the $300 product service plan (those commission-based associates can be very pushy). Now all I need is to find a case/sleeve that fits it right (I think I'll be creative and make my own). I just wish it would fit comfortably in the new Enyce bag I bought at Winners a couple days ago!