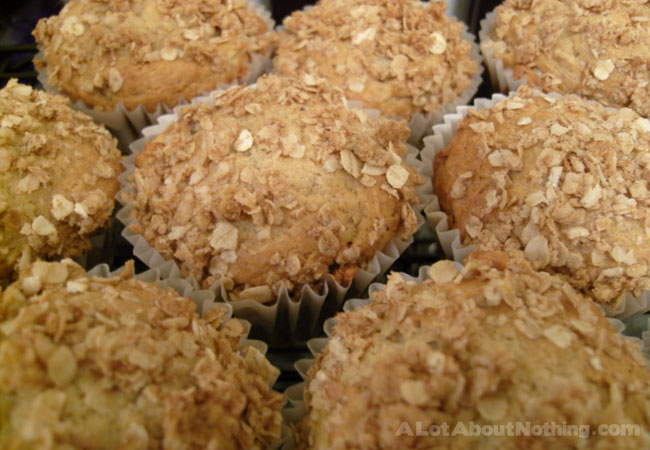 I usually don't like eating bananas when they are too ripe, so when I remembered I had a couple of ripe bananas in my kitchen the other day, I decided to make a batch of banana muffins from scratch. I also wanted to make this batch a little different so I added an apple to the recipe, used sour cream to make the muffins soft, along with a brown sugar topping and ended up with a dozen tasty treats! Since I added the apple, I was also able to cut down on the amount of sugar that's usually called for in regular banana muffin recipes. Feel free to substitute the oats for granola for the crunch topping, or omit the nuts.
Prep Time: 15 minutes
Cook Time: 30 minutes
Servings: 12 medium-large muffins
Ingredients:
Muffins:
1 1/2 cups all-purpose flour
1/2 cup white sugar
1/3 cup butter (melted, at room-tempurature)
2 large-sized bananas (ripe)
1 apple (peeled and diced)
1 egg, lightly beaten
1/2 cup sour cream
1 tsp. vanilla
1/2 cup chopped walnuts
1 tsp. baking powder
1 tsp. baking soda
1/2 tsp. salt
1/2 tsp. cinnamon
Topping:
1/3 cup packed brown sugar
1/3 cup Quaker Oats
1 tbsp. flour
1/2 tsp. cinnamon
1 tbsp. butter (melted, at room-temperature)
Directions:

Preheat oven to 375 degrees F.
For the topping: in a small bowl mix together the brown sugar, cinnamon, oats and melted butter with a spoon, until mixture resembles coarse crumbs. Set aside.
For the muffins: In a medium-sized bowl, mash bananas with a fork or potato masher.
Using a wooden spoon, mix in the diced apples to the bananas. Then add the melted butter, vanilla, beaten egg and sour cream to the banana-apple mixture until blended.
In a large bowl, mix together the flour, sugar, baking powder, baking soda and cinnamon.
Stir the banana mixture into the flour mixture until just combined. Fold in chopped walnuts, being careful not to over-mix.
Pour batter into a lightly greased or lined 12-cup muffin pan, about 3/4 full.
Sprinkle a small amount of the the sugar-oat topping on top of each banana-apple muffin.
Bake for 25-30 minutes or until a toothpick inserted into the centre of a muffin comes out clean.
Cool in pan for 5-10 minutes before removing. Eat and enjoy!